A toaster oven likely isn't going to be the first appliance you buy for your kitchen, but once you have one, it's hard to consider going back. Although they're a bit bigger than most countertop appliances—with the exception of microwaves—they more than make up for the space they take with versatility and everyday usefulness. Toaster ovens can also take the place of other appliances like a traditional toaster, air fryer, and sometimes even a conventional oven. And don't be fooled by the "toaster in the name"—sure, you can toast bread in them, but they can also bake a cake, fry up some chicken wings, and roast veggies. We've rounded up some of the best toaster ovens on the market to help you choose the one that's right for your kitchen.
Check out quick reviews below of the top five toaster ovens, then scroll deeper for more buying info and full reviews of those models plus other high-ranking options.
BEST OVERALL
Small But Capable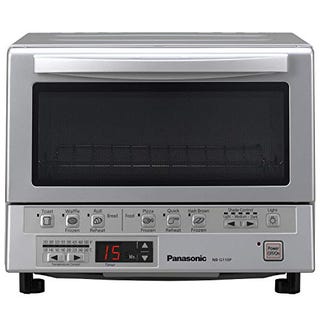 TOASTER-AIR FRYER COMBO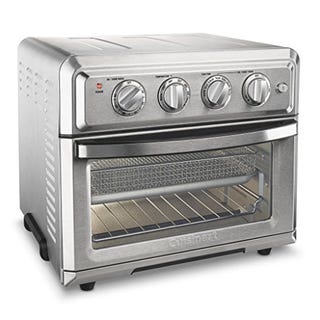 FOR EASY STORAGE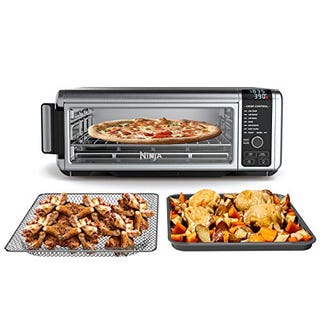 BUDGET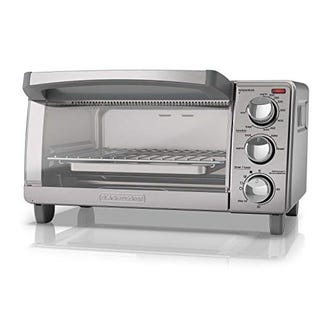 What to Consider
Toaster ovens are generally pretty straightforward, but there are a few things that you'll want to consider to find the one that's right for you. Your biggest concern should be the function—does it have convection heating, or an air fryer? If you're hoping it can take the place of other appliances, make sure that the toaster oven can meet those needs. Wattage, which will tell you how powerful the toaster oven is, is important too. Usually, the higher the wattage, the hotter the oven can get, which means quicker, more efficient cooking and better results. Finally, keep in mind both aspects of size: the space the toaster oven will take up on your counter and what you can fit inside it. If you plan on cooking the occasional frozen pizza, you will want to look at the internal dimensions and make darn sure it will fit.
How We Selected and Rated Them
We researched ten expert sources such as The Spruce, Good Housekeeping, and CNet, as well as 45,000 consumer reviews to select the best toaster ovens. Our Consumer Score represents the percentage of customers who rated the product at least four out of five stars on retail and review sites like Amazon, Walmart, and manufacturers' websites.
—BEST OVERALL—
Oster Toaster Oven
Consumer Score: 89% gave it 4 stars or more
Affordable and versatile
Wattage: 1,300 | Dimensions: 16 x 20 x 11 in. | Max temperature: 450° F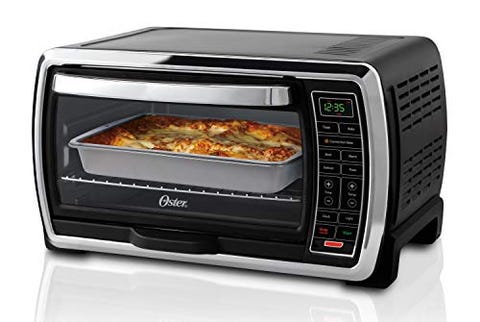 Easy on the wallet and with ample space, this toaster oven can cook everything from a pizza to a whole chicken. It's super easy to use thanks to preset cooking buttons, which include bake, convection bake, broil, toast, pizza, defrost, and warm. These will all provide a suggested temperature and time, but they are also adjustable so you can cook anything to your liking. Unlike most toaster ovens, it also has an inside light like a microwave, allowing you to see your food while it's cooking without disturbing the process by opening the door. While it is big enough to hold a 9 x 13 inch pan, it doesn't have any extra room, so you won't be able to use any pans with handles.
—SMALL BUT CAPABLE—
Panasonic FlashXpress Compact Toaster Oven
Consumer Score: 89% gave it 4 stars or more
For tiny apartments and space savers
Wattage: 1,300 | Dimensions: 12 x 13 x 10 in. | Max temperature: 500° F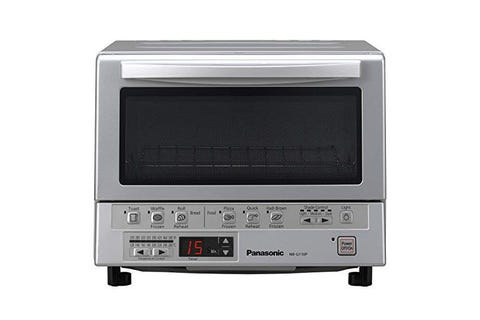 A toaster oven can be a great addition to your kitchen, but only if you have enough room for it. This compact model gives you the convenience without the bulk. Measuring out to just over 13 inches in its widest spot, the FlashXpress takes up only a bit more room than a conventional toaster and can do so much more. This one is particularly great for heating up frozen foods, as it has many presets designated to warming frozen items. While it isn't the largest, it can still fit up to a nine-inch pizza. A common complaint among reviewers, however, was that the tray can rust easily. So you may want to cover it with aluminum foil while using it to help protect it.
—TOASTER OVEN-AIR FRYER COMBO—
Cuisinart TOA-60 Convection Toaster Oven Airfryer
Consumer Score: 88% gave it 4 stars or more
Two appliances in one save money and counter space
Wattage: 1,800 | Dimensions: 5 x 16 x 14 in. | Max temperature: 450° F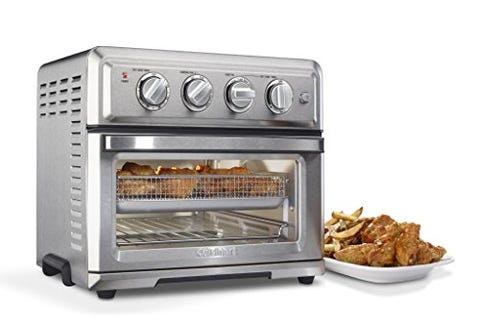 We know how much millennials love their air fryers—and it's not hard to see why. But an air fryer can only do so much, and it can easily clutter up your counter. The TOA-60 gives you a bit more versatility in one convenient package. It's more on the expensive side at almost $200, but it's also a great option for replacing or supplementing an oven. The four color options also allow you to find one that works best with your kitchen design—something not often found in toaster ovens. Testers at Good Housekeeping found that, compared to other toaster ovens, it heated the fastest and got the hottest. This meant that it cooked everything from cake to chicken wings quickly and efficiently, giving you the best result possible. The control panel can be a bit confusing, but it's a great addition to any kitchen once you master the 13 different cooking functions.
—FOR EASY STORAGE—
Ninja SP101 Foodi
Consumer Score: 92% gave it 4 stars or more
Nicely tucks away when not in use
Wattage: 1,800 | Dimensions: 20 x 8 x 15 in. | Max temperature: 450° F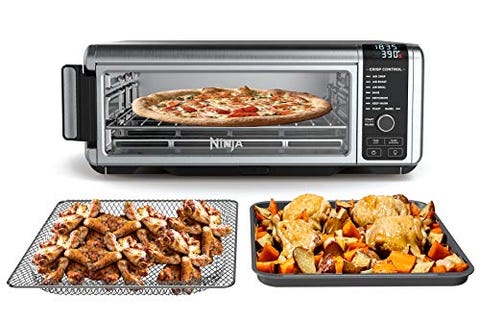 Besides the cost, one of the biggest deterrents to buying a new appliance is making room for it on your counter. While we can't give you more space, this Ninja can help save some. When not in use, it flips up, flush against the wall, taking up only half the space as when it's set out. Still, the interior is quite large and can fit a 13-inch frozen pizza or nine slices of toast. The Foodi also functions as an air fryer, saving you the need to buy yet another appliance. It has a removable crumb tray and back panel for easy cleaning, and it can reach heat in under a minute—much quicker than a conventional oven. It's a bit pricier than some other options, but if you're looking for an oven replacement, this one can do the job.
—BUDGET—
Black & Decker TO1760SS Toaster Oven
Consumer Score: 88% gave it 4 stars or more
An affordable appliance for quick and easy meals
Wattage: 1,150 | Dimensions: 12 x 17 x 9 in. | Max temperature: 450° F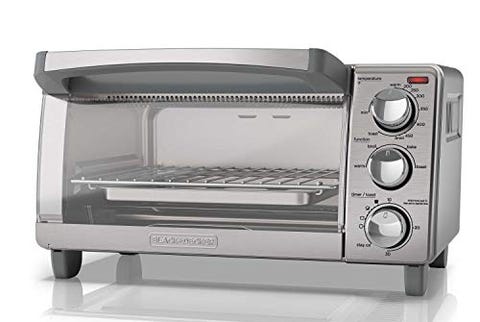 If you're looking for something that will handle lighter cooking duty, like toasting bread and warming leftovers, this Black & Decker could be for you. Now, it doesn't have the capacity or wattage to completely replace your standard oven, but it has enough oomph for quick warmups and frozen meals. At only a little north of $40, it's an affordable choice, and it doesn't take up too much counter space at 16 inches wide. Three user-friendly dials on the right side control temperature, function, and timer. Reviewers loved the removable crumb tray, which makes it extra easy to clean, but they weren't impressed with the short power cord.
—RETRO STYLE—
Nostalgia RTOV2AQ Large-Capacity Toaster Oven
Consumer Score: 92% gave it 4 stars or more
Vintage vibes with 21st century tech
Wattage: 1,500 | Dimensions: 18 x 15 x 11 in. | Max temperature: 450° F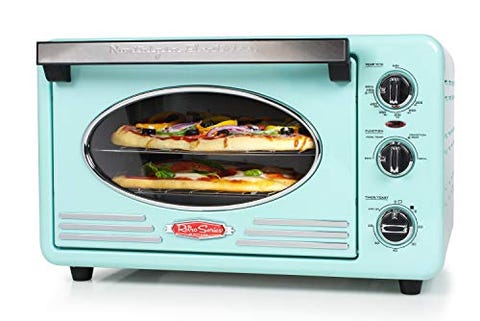 Vintage-themed kitchens are cute, but chances are you still want some modern-day conveniences. This toaster oven gives you the satisfaction of quick, easy cooking without sacrificing your aesthetic. Despite its retro exterior, this Nostalgia toaster oven is quite capable of baking, toasting, and broiling, and can cook up to two 12-inch frozen pizzas at once. It features three self-explanatory dials and removable trays that facilitate easy cleaning. The oven can reach up to 450 degrees Fahrenheit, with the added trick that you can heat the upper and lower sections of the oven separately. Reviewers loved the convection setting, which allows you to get nice crispy finishes, but warned that the outside got very hot to the touch.