Automobile
Car Insurance in Honolulu, Hawaii: Everything You Need to Know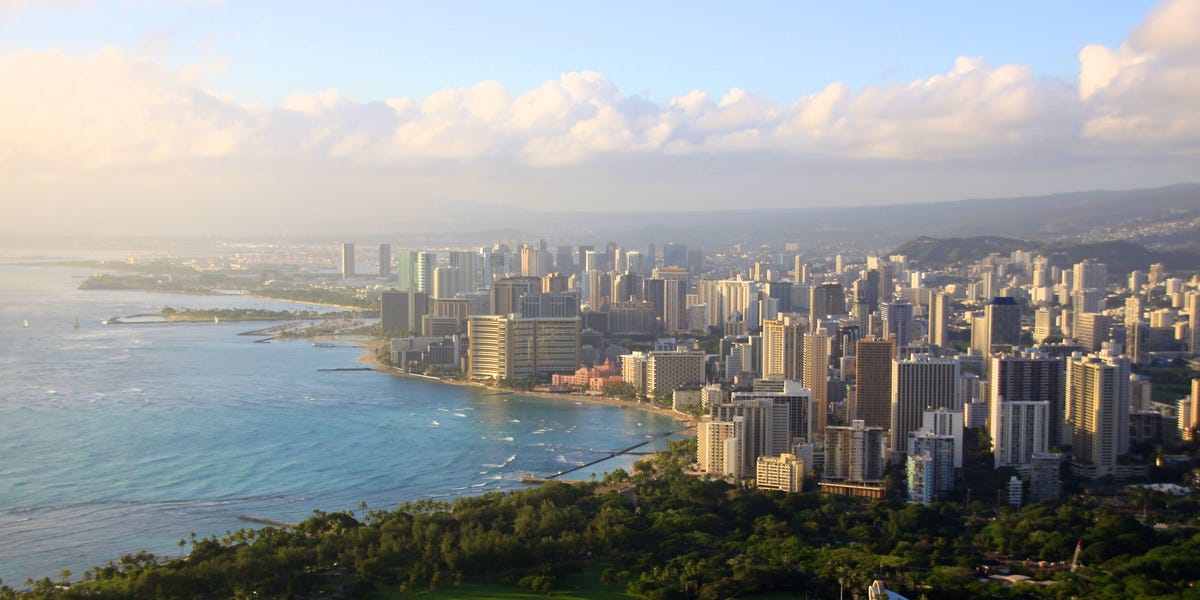 Table of Contents
Car Insurance: Honolulu Rates vs. State + National Averages
Honolulu Auto Insurance Costs by Insurer
Honolulu Auto Insurance Premiums by Driver Age
Honolulu Car Insurance Premiums by Gender and Marital Status
Average Honolulu Insurance Rates After a Violation or Accident
Honolulu Auto Insurance Premiums by Credit Tier
Expensive Honolulu Zip Codes
Cheaper Honolulu Zip Codes
List of Insurance Companies in Honolulu
No-Fault Insurance in Honolulu Information
Hawaii requires that you have a minimum amount of bodily injury liability coverage so that you do not end up paying out of pocket for injuries to other parties in the event of an accident. For car insurance Honolulu Hawaii requires all drivers to have:
$20,000 of bodily injury coverage per person.
$40,000 of bodily injury coverage per accident.
It is important to note that any damages over the limits will be your responsibility, so higher limits are often recommended.
Car Insurance: Honolulu Rates vs. State + National Averages
In Honolulu, the average annual rates for car insurance are around $1049 per year. This is slightly higher than the Hawaii average of $1045 but far less expensive than the national average rate of $1548.
Honolulu Auto Insurance Costs by Insurer
Five primary insurance carriers provide car insurance in the city of Honolulu. Rates can range as low as $772 per year for drivers with good driving records to as high as $1392. Below you will see the average annual premiums of the top five carriers, as stated by Moneygeek.
GEICO: $772
USAA: $1018
Allstate: $1139
State Farm: $1202
Liberty Mutual: $1392
Honolulu Auto Insurance Premiums by Driver Age
According to The Zebra, age is one of the greatest determining factors when it comes to car insurance premiums. Age is correlated with the amount of driving experience you have, making young drivers see the steepest rates. Yet, in Honolulu, rates are surprisingly lower for most young drivers, with teenagers paying the highest rate, which is only around $1086 per year.
Once you're in your 20s, the average annual premium drops to $1049 per year. That average will stay pretty steady from age 25 through age 70.
Honolulu Car Insurance Premiums by Gender and Marital Status
In many states, gender and marital status will be a contributing factor to rate determination, but not in Honolulu. While married couples may see slightly cheaper rates than those who are single, the difference is minimal and only occurs with a few carriers. Gender does not play a role in rates with most Honolulu companies, and both female and male drivers will pay the same.
Average Honolulu Insurance Rates After a Violation or Accident
The one factor that does cause your rates to increase significantly in Honolulu is your driving history. At-fault collisions, tickets, and other types of moving violations will have you marked as a high-risk driver and cause your rates to go up. How high your rates increase will largely depend on the severity of the offense.
You will see the most extreme jump in rates with DUI or reckless driving violations, as mentioned by Insurify. DUIs can cause your insurance to increase over $2000 per year to an average of $3218. Reckless driving can also result in an increase of more than $2000, jumping your rate as high as $3195.
Minor violations, such as speeding tickets, will still raise your rates, but usually, the hike is much less severe and runs under $200. After a speeding ticket, you can expect your rates to be around $1234 per year.
At-fault accidents can also increase your rates, though the rise is even more slight. After an at-fault accident with damages over $2000, you can expect to pay an average of $1368.
Honolulu Auto Insurance Premiums by Credit Tier
Credit scores can affect the premiums you pay in most cities, with those with lower scores paying significantly higher premiums than those with good or excellent scores. Honolulu does not use credit as a determining factor when it comes to rates, but poor credit can affect your driving in other ways, such as car financing.
Expensive Honolulu ZIP Codes
Higher-risk neighborhoods mean you could pay higher costs for car insurance. Areas considered to be a higher risk will often have higher crime rates, increased auto traffic, and a higher population. These factors can lead to a higher rate of claims, which makes them more expensive ZIP codes to obtain insurance in. ZIP codes in Honolulu that have the most expensive car insurance rates are:
Cheaper Honolulu ZIP Codes
Just as there are more expensive areas of the city for car insurance, there are also areas where you will pay less. These areas are more sparsely populated and see lower levels of traffic. The cheapest ZIP codes in Honolulu for car insurance are:
96813
96814
96815
96816
96817
List of Insurance Companies in Honolulu
There are multiple companies in Honolulu that provide car insurance, making it easier to find the rates you want and the coverages you need. The company that boasts the lowest insurance rates is USAA, which is available to active and retired military members, spouses, and dependents.
GEICO is another popular option in Honolulu, which also has reasonable rates. They also offer all of their insurance management options online, which provides added convenience. State Farm has great rates, especially for those who have had previous accidents or moving violations on their record.
Allstate is a more expensive option in the city but offers a wide range of discounts to help get your premium down. They are also highly rated in terms of customer service. Farmers is the company that has the highest rates in Honolulu, but they offer a wider range of coverages and a high number of agents.
No-Fault Insurance in Honolulu Information
Hawaii is a no-fault state, requiring Personal Injury Protection to be included with all of their insurance policies. This coverage will kick in to cover medical expenses, death benefits, and lost wages for drivers and passengers, no matter who was deemed at fault for the accident. By law, drivers must have at least $10,000 per person per accident PIP coverage on their policy.
Check this out if you need additional information, resources, or guidance on car insurance.
Sources:
Car Insurance | caranddriver.com
What is the Best Car Insurance in Hawaii? | caranddriver.com
Car Insurance USAA | caranddriver.com
Best Cheap Car Insurance in Hawaii for 2021 | moneygeek.com
Cheap Auto Insurance Quotes in Honolulu, HI (2021) | insurify.com
Honolulu, HI Car Insurance | thezebra.com
This content is created and maintained by a third party, and imported onto this page to help users provide their email addresses. You may be able to find more information about this and similar content at piano.io
Most Related Links :
todaybiznews Governmental News Finance News